The Early Settlers of Brownhelm Township Ohio
President Fairchild, in his history of this township written in 1867, locates generally the early settlers as follows:
There were originally five lines of settlement in town, the lake shore and the four ridges parallel to it.
On the lake shore there were: Brown, Seymour, James, Shepard, Weed, Dr. Brown, Goodrich, Hart, Sly, Wells, Graham and Sheldon Johnson; and at a later day, Hawley Lathrop and Leach.
Between the shore and the First Ridge: Cooley, Barnum, Scott; and later, Perley Moulton and Rankin.
Along the First Ridge: Whittlesey, Alverson, Peter P. Pease. Cooper, Orrin Sage, Moulton, Joseph Scott and Ketchum; and later, Baker, Ewing, Lyon, Culver, Hiram Pease, Hamilton Perry, Parkhurst, Hastings, Bartlett, Hosford, Dimmock, Graves, Blodgett, Hemmingway, James Newbury and Job Smith.
On the principal ridge, known as the North Ridge: Andrews, Avery, Baldwin, Lincoln, Fairchild, Betts, Daniel Perry, and afterward his sons; the Bacons, three families, Curtis at the mill, Hinkley and Waters Bette; and beyond the river, Abishai Morse, Bradley, Hewett, Booth, Davis and his distillery, and Saunders. At a later day, along the same ridge, we have Belden, Samuel Curtis, Rodney Andrews, Henry Sage, Samuel Bacon, Leavenworth, Dr. Willard, Bailey, Kent Hawley, Edward Morse, Stephen Goodrich, Stephen Brown, John Newbury, Fancher, and many others still later.
Along the Middle Ridge or near it, on one side or the other: Peck, George James, Seth Morse, Wallace, Jones; and at a later day, Harris, Locke, Van Dusen, Ira Rugg, Cable, Frisbie, Chapin, Bushrod Perry, S. G. Morse, Parsons and Ira Wood; and still further south, Joseph Swift.
On the South Ridge road, the earliest families were Powers, Leonard, Durand, Andrews, Hancock, Denison, Holcomb, Abbott and Fuller. This road was soon set off to Henrietta.
Almost all of these families came from the east, most from Berkshire county, Massachusetts, some from Connecticut, and a few from other parts. A very few, discouraged by sickness and by the hardships of the new country, returned east.
Col. (Judge) Henry Brown
Col. (Judge) Henry Brown was born in Stockbridge, Massachusetts on June 3, 1773. In his youth he started a course of liberal education at Harvard College, but by his sophomore year was experiencing failing health, thus discontinuing his studies. After he restored his health by travel and relieving the stress of college, he engaged in merchandise in his town and continued in the business until his newfound western interests required him to give it up.
In the fall of 1816, he visited the tract of country, then simply known as number six in the nineteenth range (Brownhelm) and on his return east he entered into contract with the Connecticut Land Company to form Brownhelm. The honor of naming this new township was awarded to him. Upon the organization of the county of Lorain, Col. Brown was appointed one of the three associate judges of the county, a position which, both by reason of his business experience and the natural bent of his mind, he was well qualified to fill.
Judge Brown also took an active part in the establishment of a college in the Western Reserve. Judge Brown was afterwards a member of the board of trustees of this college, and continued in the office until the infirmities of age compelled him to relinquish it. He was a man of many social qualities, and of much intelligence. He died December 10, 1843, in the seventy-first year of his age, and the family is now extinct in the township.
William Alverson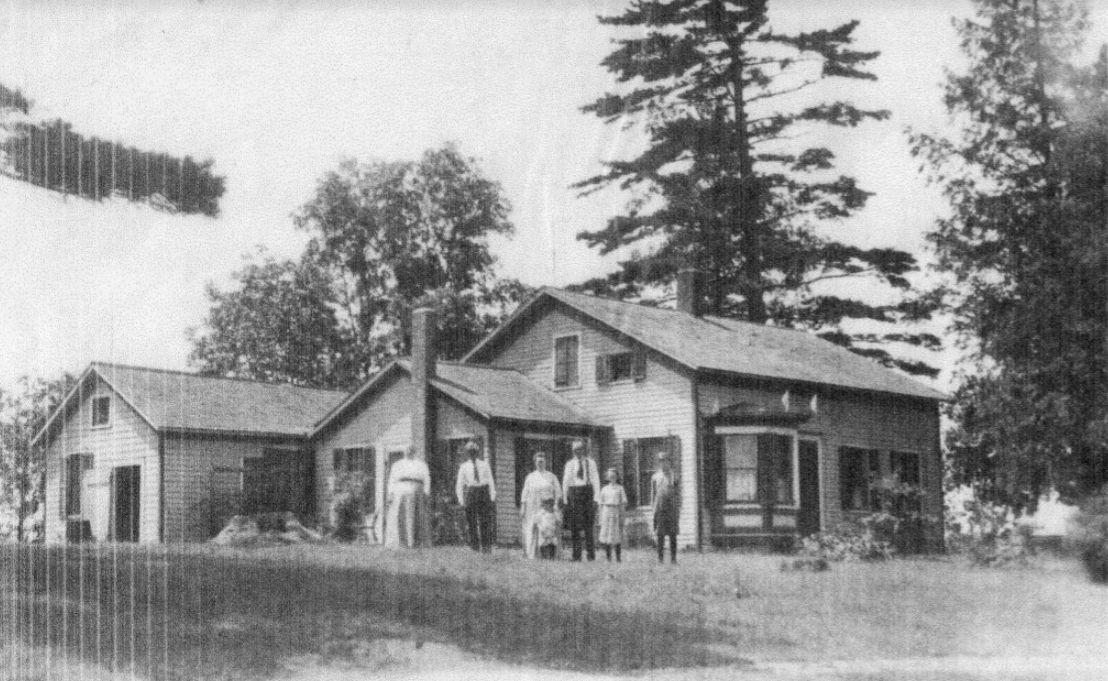 William Alverson, born August 18, 1784 in Holland, sailed from Amsterdam with his widowed mother and two brothers when he was ten years old. They settled in Poughkeepsie, New York. When he was a young man, he moved to Stockbridge, Massachusetts. At the age of 32 he embarked on an adventure to become one of the founding fathers of Brownhelm Township, Ohio.
Frost had killed off most of the crops in New England in May of 1816, the "Year without Summer". The result was regional malnutrition, starvation, and epidemic. Spurred on by this natural disaster, in the fall of 1816 William Alverson traveled with Henry Brown and several young men from Massachusetts to northeast Ohio where Brown selected a tract of land, about a mile square, in the northeast corner near the lake shore. Brown and Alverson were accompanied by Peter P. Pease, Charles Whittlesey and William Lincoln. The men helped to erect a cabin for Brown and began improvement of the land, as did Seth Morse and Rensselaer Cooley. Col. Brown, as he was formerly called, returned to Massachusetts leaving his men to make preparations for other families moving out to the township the following year. Morse and Cooley returned to the East for the winter. Alverson, Lincoln, Pease and Whittlesey remained.
Township officers were chosen at the spring election in 1819, held at the home of George Bacon. Calvin Leonard, Levi Shepard and Alva Curtis were elected trustees; Anson Cooper, township clerk; William Alverson, treasurer; Benjamin Bacon and Levi Shepard, justices of the peace.
Some of the young men had arrangements cast that they returned to consummate after they had stuck their stakes. These were the earliest visits to the east. Returning to Stockbridge, Massachusetts, William Alverson married Harriet Fairchild, sister of Grandison Fairchild, born August 2, 1798 in Stockbridge. They married June 8, 1819. Soon after their marriage they went to Brownhelm, Ohio with an oxteam. They were on the way six weeks.
About three years after these first settlers arrived in Brownhelm, Mr. and Mrs. William Alverson were living in a house of their own, a timber framed home built on the crest of a hill on the North Ridge. Logs from the land were shaped into rectangular, hand-hewn posts and beams through the skilled use of axes. Precise mortise and tenon and dovetail joints were hand-carved, which were secured with wooden pegs. The skill in creating this precise joinery and intricately engineered timber frames was the source of great pride and competition among the timber frame artisans; so much so that it became a tradition for craftsmen to inscribe their initials next to the joinery they created. William Alverson carved an "A" next to the joints.
A number of families, comprising the usual large quota of children, had located near the Alversons. So the housewife gathered the children of the neighborhood and opened a school. This first school in town was opened by Mrs. Harriet Alverson in her own house in the summer of 1819.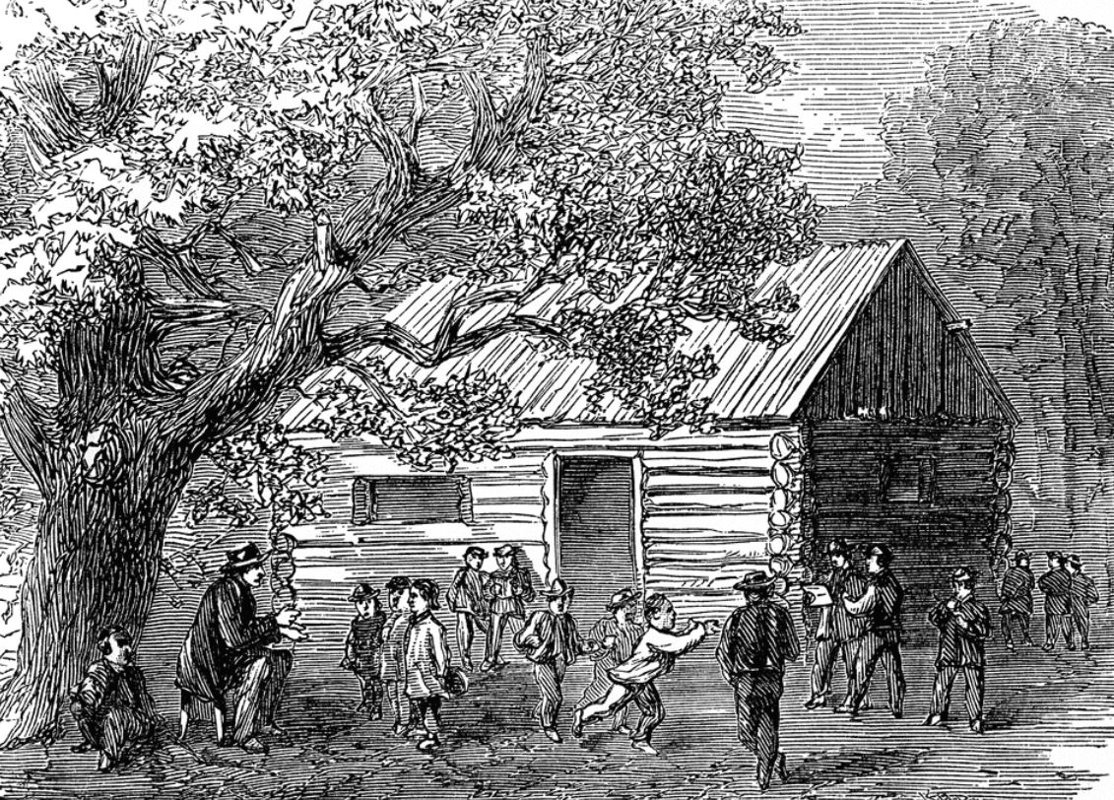 The 18 x 22 foot school house was built of log on the brow of the hill. It was named Strut Street School. An old butternut tree stood near the door. Harriet's brother, Grandison Fairchild, taught the school the first two winters. Male teachers were often preferred in the winter months when the older students, no longer needed in the fields, returned to school and were of a more spirited humor. Fairchild received his tuition in chopping. Labor and produce were the currency employed for the exchange of values. Money was very scarce, and nearly all debts, except the one incurred in the purchase of lands, were paid in labor, its products, and those of the soil.
The site of the school was romantic. School children enjoyed sliding down the hill, wading in the brook, and floating logs down the creek. In winter children would skate upon the frozen stream.
The house was of modest dimensions, eighteen by twenty two, but was still thought by some to be too ambitious a disposition on the part of the people who lived on this road. Hence, the street was nicknamed Strut Street by a man who would have the house twelve feet square - a title it bore for many years. This school house was finished with a stick chimney and a broad fireplace without jambs. A board around the house, resting on pins projecting from the walls, served for desks. Whitewood slabs supported by pins made the seats. Loose boards lying on joists made a loft above, and an excavation beneath the floor, reached by raising a board, was thought by the children to serve as a dungeon for the punishment of offenders. In their childish simplicity, they supposed the excavation was made for the purpose, with malice prepense, but it was an accidental result of making mortar to build the chimney.
Children from every part of the town attended. There was no public school fund in those times and the teacher received his compensation in work in his chopping the next spring day, being distributed among the families according to the number of children attending the school. For years afterwards teachers received their pay in farm produce.
One summer day the teacher placed her chair on the table, removed a board from the floor above, lifted the children up one by one and kept school up stairs - the excuse being that Colonel Brown's bull had been seen loose around the street that day and he might be wild.
In 1824 the "Yellow School House" was built a few feet west of the log one and the boys had the exquisite pleasure of rolling the old house down the hill. This yellow school house was an elegant one in its day, painted throughout and plastered. It was no ordinary school house, but a genuine academy furnished with unusual apparatus globes and wall maps, and pantograph and tables for map drawing and painting. This was the first attempt in the county, and indeed in a much wider region, at a school of anything more than a local character. It prospered for two or three years, attracting young ladies in the summer from all the older settlements within a distance of twenty miles - Milan, Norwalk, Florence, Elyria, Shelfield etc. The first summer the house was without heat. In cool, wet weather the boys kept up an outdoor fire, and between the damp plastering within and the rain without some of the children took the ague and shook the summer through. In the fall a stove was bought - probably the first that was ever brought into town - a diminutive box stove eighteen inches in length, but a wonder to the children of the woods who had never seen a stove. Over that children shivered two or three winters until it was succeeded by a larger stove cast in plates but utterly destitute of clamping rods to hold it together. No man in the community knew that such a thing was necessary, and it was no rare occurrence for a long stick to thrust out the end plate and occasionally the whole fabric collapsed at once. But such annoyances were but trifles and the Brownhelm school maintained a character above that of other schools in the country around. There was no other school in town the first dozen years or more. After three or four years it ceased to be anything but a local school. The old yellow school house eventually went off in a blaze.
In the summer of 1830, Rev Hervey Lyon opened an academy in a small house built for the purpose. This was kept up two years and attended by small number of pupils, a few of whom commenced Latin and Greek in preparation for college. This was the first classical school in the county and gave place to the Elyria high school established in 1832. This school enjoyed two years of great prosperity until the school at Oberlin was opened in 1834, which at once took the lead and has maintained it. Harriet's brother, Grandison Fairchild, was active in the founding of Oberlin College. Her nephew, James, was president of Oberlin for a quarter of a century.
In the early part of 1899 the brick school was built on North Ridge Road. The original red brick school was square in plan with four evenly spaced brick pilasters along the front, back and sides. Ventilation and daylight were introduced into the interior by tall, narrow, double hung windows. The building had a steeply pitched hip roof. In 1905, an addition was constructed on the west side of the 1889 building. The less steeply pitched hip roof was added at this time, featuring a deep overhang with carved wood bracked supports. Roof dormers and a cupola were added with this addition. In 1922, the Brownhelm School was renovated and further enlarged. The renovation included a new red brick Neo classical/Georgian Revival front facade. The round top glass transom and stonework detailing gave importance to the main entrance. The rear flat roofed brick and masonry addition added a large combination auditorium and gymnasium.
The Alversons had six children:
Emily Louisa- born April 30, 1820 in Brownhelm, Ohio; died September 2, 1882 in Lee, Massachusetts




Mary Lucinia - born September 24, 1821; died April 18, 1840 in Stockbridge, Massachusetts




Daniel Fairchild - born February 19, 1823; died December 5, 1893 in Canandaigun, New York (On June 15, 1848 Daniel Fairchild Alverson married Sarah Cowdery (1822-1906) in Rochester, Monroe Co., New York. Sarah was the daughter of the celebrated frontier printer and editor, Benjamin Franklin Cowdery (1790-1867).)




Elizabeth Elvira - born February 8, 1825; died April 1895 in Brownhelm, Ohio




Frederick William - born December 14, 1829; died August 1894 in Canadaigun, New York




Julia Harriet - born March 17, 1834, Stockbridge, Massachusetts; died March 8, 1861 in Lee, Massachusetts



In 1830 the Alversons returned to Stockbridge, Massachusetts where they lived until the the death of Mr. Alverson on February 2, 1847 in Stockbridge. Harriet Fairchild Alverson married a second husband on December 2, 1856, Elisha Benham. Harriet Fairchild Alverson Benham died September 30, 1885 in West Haven, Connecticut.
Grandison Fairchild
Grandison Fairchild was born in Sheflield, Berkshire county, Massachusetts, April 20, 1792. November 25, 1813, he married Nancy Harris, daughter of William Harris, who was an early settler in Brownhelm. She was born October 30, 1795. Mr. Fairchild, with his family, then consisting of wife and three children, removed from Stockbridge, Massachusetts, to Brownhelm in September, 1818, coming from Buffalo to Cleveland on the pioneer steamer, Walk-in-the-Water. Four days were spent on the water, the vessel lying for two days on a bar at Erie. From Cleveland the journey was made with team and wagon. Mr. Fairchild's location was on North Ridge, between the later residence of his son Charles and the church. He later moved a short distance east of his original location, in his eighty seventh year, erect and seemingly as vigorous as ever. Mrs. Fairchild died in August, 1875. There were ten children. His sons became presidents of various educational institutions. James was president of Oberlin for a quarter of a century. Henry was president of Berea College at Berea, Kentucky. George was president of Kansas State University.
Deacon Shepard
Deacon Shepard was born near Sturbridge, Worcester County, Massachusetts, December 9, 1784. When a boy he removed with his parents to Stockbridge where he resided until his emigration to Ohio. He was a blacksmith and prosecuted his trade in connection with his farm work for several years in Brownhelm, his patrons paying him in work at clearing and logging on his farm. Mr. Shepard was blessed with a remarkably strong constitution. At the age of eighty-three he could work all day with almost as little consequent fatigue as in the days of his young manhood; and the summer immediately preceding his eighty-fourth birthday he was engaged in chopping wood, and splitting rails, almost the entire season. In December, 1876, he sustained a partial stroke of paralysis in his lower limbs, and since that time he moved about with difficulty. His hearing and eyesight were also much impaired. But, notwithstanding his bodily infirmities, his mind still remained comparatively vigorous, and his memory of early events was remarkably good. He was small in stature, and his form much bent, bowed down by the weight of years. He enjoyed, extremely, a chat about pioneer times, and related with glee how be secured for himself and family the honor of being the first settlers. Deacon Shepard has no descendants now living the town. His third wife died, and his four children, two sons and two daughters, moved somewhere in the west.
Stephen James
Stephen James was born in Middlesex, Connecticut, August 8, 1767, but removed to Stockbridge, Massachusetts when young. He was prominently identified with the church for many years in Brownhelm, and also in Stockbridge, where he was first elected to the office of deacon under Rev. Dr. West. This office he filled with equal credit to himself, and satisfaction to the church. He instituted the first known religious services held in this township, holding meeting at Judge Brown's house the Sunday immediately preceding the arrival of Deacon Shepard and his associates. Before the advent of the minister, he led the meetings of the little band in the woods of Brownhelm, regularly sustaining a reading service on the Sabbath, in connection with his brethren, until they were blessed with the stated ministry of the word. He frequently officiated on funeral and other occasions, and assisted in the organization of religious services in neighboring settlements. He was well qualified for such work, possessing, it is said, among other qualifications, considerable fluency of speech. In all the walks of life, Deacon James was distinguished for benevolence, moral rectitude, and earnest, active piety. He married, at the age of twenty-seven, Hannah Schofield, of Stanford, Connecticut, who died in 1811, leaving five children, three sons and two daughters. One of the sons being an apprentice in Massachusetts, never emigrated to the west. In the fall of 1828, he married Miss Rhoda Buck, of Connecticut, who was visiting friends in Brownhelm at the time. No children were born of this marriage. Deacon James died in 1841, his wife surviving him several years.
Orrin Sage
Orrin Sage, originally from Hartford, Connecticut, married Lucy Cooper, of Stockbridge, Massachusetts, in June, 1818, and, immediately afterwards, with George Bacon and his wife, who was a sister of Mrs. Sage, set out for the distant west. The party had a wagon and two ox-teams, and a single horse and wagon with which they made the journey, and were five weeks coming through. At Buffalo they shipped their goods by the lake to Black River. Sage located on the farm adjoining on the north - that on which the Bacons later lived. He died in October, 1823, and his widow soon after exchanged farms with Jona than Hosford and returned with her little son to Stockbridge.
Bacon
Bacon located on a farm. His first wife died in 1826, and he returned to Stockbridge and a year subsequently married Mrs. Sage, when they removed to Brownhehn. Mrs. Bacon died in January, 1875. Mrs. Bacon lived into her eighties.
Enos Cooley
Enos Cooley began life in the wilderness on a cash capital of six cents. He located near the lake shore, erecting his cabin on the spot later occupied by the residence of the widow of Lewis Braun. He subsequently removed to a permanent location on the North Ridge, where he resided until his death in 1847. Two of his children were later living in this township. They are Moses and Chester A. The latter owned and operated at Bacon's Corners the only cheese factory in the town.
Elisha Peck
Elisha Peck, with wife and ten children, arrived in Brownhelm in November of the year previously mentioned. The family stopped with Colonel Brown the night after their arrival, and then moved into the house of Alfred Avery, where they remained some three weeks. They then took up their abode on lot fifty-four, a log house having been rolled together. It was indeed a. primitive house when the family moved into it, for it was without a floor of any kind, and the first night the children made their bed on mother earth. The father and mother were provided with a bedstead constructed of poles, and elm bark was made to answer in place of a cord. Mr. Peck was a shoemaker and worked at his trade for over sixty years. He also had a rude tannery in Brownhelm at an early day. He was born in Berlin, Connecticut, March 7, 1773, and died in Brownhelm January 7, 1858, aged eighty-four years and ten months. His wife was Millicent Byington, of Bristol, Connecticut. They had four children.
Deacon George Wells
Deacon George Wells arrived in 1818. He was at the time unmarried. He bought a piece of land on the lake shore, felled a tree, and with a few poles and bark made himself a rude shelter in which he lived the first summer. A short time afterward this was substituted by a log house, in which his widowed mother and the remainder of her family took up their abode in the summer of 1820. Mr. Wells returned to Hartford in 1825, and married, immediately after which he set out with his bride for the far west. At Buffalo he engaged passage on a vessel, the captain of which agreed to land him on the shore opposite his residence in Brownhelm. He disregarded his promise, however, and carried Mr. Wells and wife to Johnson's Island, thence to Sandusky, and finally landed them, with some twenty other passengers, at Cedar Point. Mr. Wells and wife started for their Brownhelm cabin on foot, but after traveling some ten miles were overtaken by Captain Day, who was returning to Black River from Sandusky on horseback. He kindly offered his place on the horse to the young wife, which was accepted; Mr. Wells and the captain traveling on foot. The end of the journey was duly reached, when two men with a skifi were sent after Mrs. Wells' baggage, which was hardly equal either in value or quantity to the outfit of the modern bride.
John Graham
John Graham married a sister of Deacon Wells, and removed to Brownhelm soon after he arrived. He located on the same lot - lot four - and lived there the remainder of his life.
Abishai Morse
Abishai Morse came from Great Barrington, Massachusetts, to Brownhelm in September, 1820 with his family consisting of his wife and five children. Eight were born subsequently. A horse team and wagon brought the family and their effects, and they were six weeks on the journey. They lived with Alva Curtis until their log house was completed. This stood a short distance east of the later residence of his son, Geo. G. Morse, west of the Vermillion. The log house was occupied until 1833, when the pleasant frame house was erected. He and George Hinckley had a saw mill on the Vermillion in an early day, where Heyman's grist and saw mill later stood. They afterwards bought the old grist mill of Judge Brown, which had been removed to the same place from its original location near the Swift place. Mr. Morse died in December, 1835.
Ira Wood & Stephen Goodrich
Ira Wood came into the township in 1831. His first location was west of the river, where John Stevenson later lived. Stephen Goodrich came in at the same time, and they together established a tannery. Mr. Wood subsequently sold his interest to Goodrich, and moved to the east side of the river.